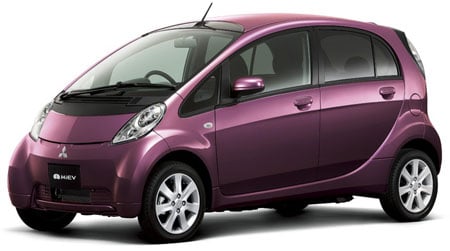 The
Mitsubishi i MiEV
(MiEV is an acronym for Mitsubishi innovative Electric Vehicle) is a five-door hatchback electric car produced by Mitsubishi Motors. According to the manufacturer, the i MiEV all-electric range is 100 miles (160 km) on the Japanese test cycle and 75 miles (121 km) on the US cycle.
Production of the left-hand drive European-spec i-MiEV began in October 2010 and production of the North American-spec i-MiEV is scheduled for fiscal year 2011.[24][25] By the end of November 2010 cumulative production had reached 5,000 units at Mitsubitshi's Mizushima Plant.[24] In May 2011 Mitsubishi announced a new production target of 25,000 i-MiEVs worldwide in fiscal year 2011. The carmaker also plans to export about 15,000 units overseas, mainly to Europe, where the company will promote sales to the European public sector, such as police departments and local governments.
"Japanese Car of the Year Most Advanced Technology" awarded during the 41st Tokyo Motor Show in October 2009.
"Ecobest 2009" by AUTOBEST in January 2010.
"Environment Special Grand Prize" awarded during the 25th International Automobile Festival, Paris, France on February 2010.
The i MiEV was one of the five finalists to the 2011 Green Car Vision Award.